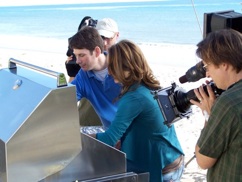 Filming "Everyday Italian" with Giada De Laurentiis
This is a quick look at what it's like on the set of a Food Network show! Appearing on "Everyday Italian" with my cousin, Giada De Laurentiis, was so much fun and it was an honor to share my grilling expertise with her viewers. We prepared Grilled Salmon with the gorgeous beach behind us  as we did so. It was such a beautiful day, we couldn't have asked for better weather!
A love for fine cuisine runs clearly runs in our blood, and it was so awesome to spend the day together doing something the two of us love so much–cooking! This episode of "Everyday Italian" is airing July 2007! Hopefully you'll get to catch the episode and see us in action!