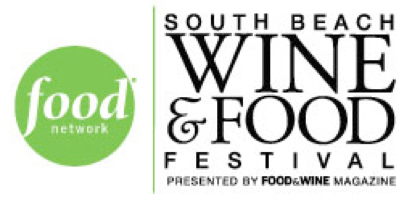 The South Beach Food & Wine Festival
This past Friday evening's Bubble Q at the South Beach Wine & Food Festival offered free-flowing Moët & Chandon and incredible foods prepared by celebrity chefs, and I was honored to be included in the lineup with these incredibly talented chefs. The food prepared was equally amazing!
Fortunately, I ended up with enough time to sample the dishes that the other chef's were serving, which made for a very filling evening. This was not your average barbecue, but it was so inspiring to me. Everything from the flavors to the presentation was perfection. Here's a list of some of the amazing chefs who were present and what they were serving, including myself!
Aaron Sanchez : Adobo rubbed sirloin with roasted tomatillo and smoked tomato salsas; garnished with cactus and roasted poblano rajas
•Christian Thompson: Peppercorn & coriander rubbed tenderloin medallions with chimi churi, arugala & fennel salad with lemon vinaigrette topped with Michigan dried cherries.
•Jasper White: Grilled jumbo Maine sea scallops with garlic herb butter, baby arugula and white bean ragout
•Giada De Laurentis: Mini Italian sausage, pepper & onion sandwiches. And chocolate & brie panini
•Andrew Swersky: Grilled Wagyu ribeyes with port wine foie gras sauce with homemade goat cheese tater tots & buffalo black bean chili
•Rick Bayless: Cochinita pibil achiote marinated pork, slow roasted in banana leaves served with pan juices, habanera salsa, black beans & pickled red onions
•Dean Fearing: Buffalo Taco with green chili salsa and smokey aioli
•Tyler Florence: Grilled Monterey Bay calamari over fresh fava bean salad garnished with raisin-caper salsa verde and topped with fresh bread crumbs
•Katie Lee Joel: Logan county hamburgers
•Mark Militello: Oak oven roasted spicy Italian baby back ribs with chestnut polenta; herb grilled rack of Colorado lamb with cornbread strata and rosemary jam; chocolate banana custard cake with coconut-curry mousse, banana caviar and coconut crisp
•Patrick Neely: Wagyu beef brisket & grilled vegetable medley
•Terry Zarikian: Terry's Mediterranean citrus BBQ ribs with all white bean Greek salad
•Zak Pelaccio: Smoked fat burger with kimchi slaw