Wolverine Tailgate
It's football season again and for us, Tailgate Season is in full swing. I love Tailgates–I love football and especially love U of M football. I so love doing tailgates for our clientele because it gives me a chance to combine two things I love in one day–food and football.
This particular tailgate was for the University of Michigan College of Engineering and was held at the U of M Golf Course. We served some of our tailgate favorites!
This group decided that a buffet-style tailgate was exactly what they had in mind, and we brought everything they could have wanted.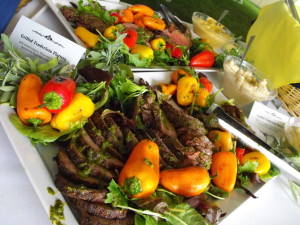 Our Grilled Tenderloin Platter was a hit, and has become a favorite. Along with it, we served fresh fruit kabobs, Grilled Apple Chicken Sausages, and had an entire stand full of sweet goodies! Those are always pretty hard to resist!
All in all, it was another really fun tailgate and a great game.!